Collections Search
Beta
Search the Litchfield Historical Society's online collections
Welcome to the online museum catalog of the
Litchfield Historical Society.
Here you can search through thousands of objects from the Litchfield Historical Society collection, including clothing, furniture, needlework, paintings, prints, drawings, household objects, and more.
This online database represents a third of our total collection. Please check back often, since we are adding new records and additional information every day. If you would like more information about any object or would like to see a particular object in person email our Curator or call (860) 567-4501.
Selection from our catalog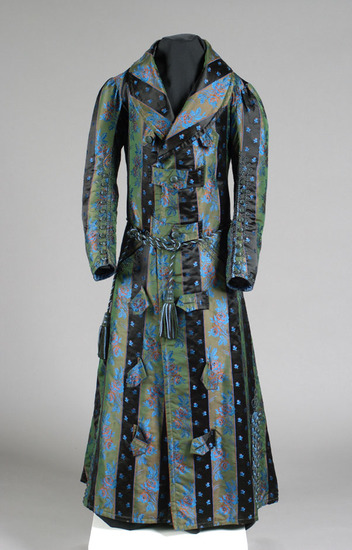 Dressing Gown
Object Number: 1965-21-1

Man's full length, long sleeve dressing gown. Large folded over lapels around neck and down front. Buttons across chest, rope belt at waist. Gown alternating stripes of silk fabric - black with small embroidered design and olive green with blue and pink embroidered floral pattern.
View record